#OC
tober
An annual event focusing on original characters .. a different OC prompt for every day of October!
F.A.Q
Do I have to draw EVERY DAY?
NO! I highly encourage skipping as many days as you need to avoid burnout!
There are 10 main days in the event (marked with a star) that you can focus on if you don't feel up to doing every day, or you can choose your own adventure and just do the prompts you personally like!
Do I have to DRAW?
NO! You can also write fanfiction snippets, repost older art that fits the theme, tweet headcanons/backstory, roleplay in-character as your oc ... genuinely anything that fits the theme is OK!!
Can I start early?
YES! I understand some people work at a slower pace and might need a head start! So long as you wait until October to post it, you can start working as early as you need!
I missed the start of the event .. do I have to catch up?
NO! Please don't stress about days you missed, it doesn't mean you 'failed' in any way! You're allowed to just skip to the current prompt!
I can't find people's entries in the OCtober tag
OCtober is a fairly popular spin-off of inktober and a lot of people make their own prompts lists ... if you wanna see the entries JUST for my prompts, use the tag #bweirdOCtober. I also reblog everybody's entries to bweirdevents.tumblr.com for an easy-to-scroll archive!
RULES:
1. MAKE FRIENDS! The community is the best part of this event .. please try to follow new people, ask questions about ocs you like, compliment people's styles, ask friends to create with you, etc!
2. TAKE IT EASY! Skip a day if you're tired, busy or just not interested in the prompt. You don't have to catch up on it later. This is supposed to be fun, not work!
3. BE KIND! Please think about the people around you - don't give people unwarranted harsh criticism, content warn for themes/imagery in your work that could trigger someone, don't create anything hateful, etc
2023 prompts
Here's this year's prompts! If you're not sure what to draw for a certain prompt, scroll down for tips/ideas/descriptions!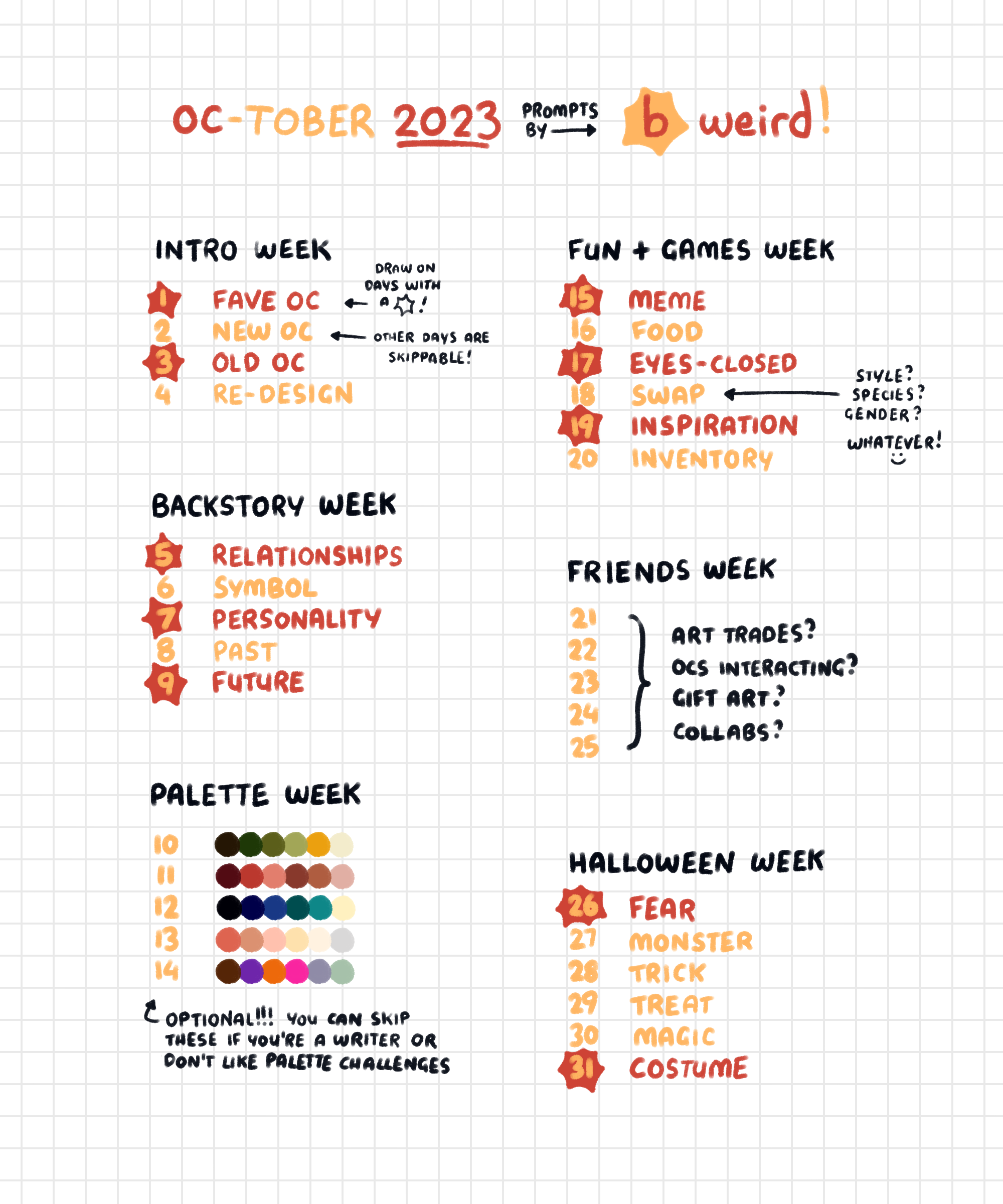 red & star = main prompts
yellow & no star = optional prompts
INTRO WEEK

1: FAVE OC
-Which of your characters is your favourite right now?
2: NEW OC
-Who is your newest OC?
-Design a new OC right now
3: OLD OC
-Do you remember the first OC you ever made?
-Is there an OC you haven't drawn in a long time?
4: RE-DESIGN
-An OC who has changed a lot over the years
-Take an old OC and update their design right now

BACKSTORY WEEK

5: RELATIONSHIPS
-Who is important to your OC?
-Do they have a partner?
-Do they have a best friend?
-Are they close to their family?
6: SYMBOL
-What imagery do you associate with your oc?
-Are there any colours, flowers, animals or concepts that symbolize them?
7: PERSONALITY
-How does your OC behave?
-What are their positive traits?
-What are their negative traits?
-Are they extroverted or introverted?
8: PAST
-What was your OC like as a child?
-Where did they grow up?
-Are there any significant moments from their past that shaped who they are?
9: FUTURE
-Does your OC have a goal they're working towards?
-What will your OC look like when they get older
-Do you have a planned ending for their story?

PALETTE WEEK

This week is completely optional for anyone participating as a writer! It's also optional for everyone else too! Go ahead and skip it if you don't like palette challenges!
10: pumpkin patch palette
#251604 #1E3807 #5B5E1A #A2A657 #EBA00F #F3ECCC



11: hot cocoa palette
#520B13 #BB382E #E27E6D #88392C #AF5D40 #E1AFA4



12: midnight zone palette
#000007 #000049 #183885 #004D4F #0E8788 #FFF1C0



13: peachy palette
#DE6450 #DB9171 #FFC1AE #FEE1AD #FFF2E0 #D9D8D8



14: haunted house palette
#552506 #6E25AA #ED690B #F925A0 #8F8BA7 #A6C1AA


FUN + GAMES WEEK

15: MEME
-Post memes that remind you of your OC
-Draw your OC as a meme
-Fill out a character meme (classic deviantart style)
16: FOOD
-What is your OC's favourite food?
-What is their least favourite?
-Can they cook?
17: EYES-CLOSED
-Draw your OC with your eyes closed! No cheating!
-Write a scene without looking at the keyboard! Keep the typos in!
18: SWAP
-Swap the style or aesthetic of two of your OCs
-Species or gender swap AU
-Invert an OC's colour scheme
19: INSPIRATION
-Is your OC inspired by any pre-existing characters?
-Are there any particular songs/lyrics that inspired something about one of your OCs
-Do you have a dedicated pinterest moodboard for your character?
20: INVENTORY
-What does your OC carry around with them on a daily basis?
-Are there any objects that have sentimental value for them?
-Loot drop for your DnD OC

FRIENDS WEEK

21-25:
There's no specific daily prompts for this week, but here are some ideas you can try ...
-Art trades with friends who are doing the event with you
-Your OC interacting with a friend's OC
-Gift art for someone whose OCs you like
-Work together and collaborate on something with a friend
-Roleplay an OC scene together with someone

HALLOWEEN WEEK

26: FEAR
-What is your OC scared of?
-Draw one of your OCs trying to scare the others
27: MONSTER
-Do you have any monster OCs? (eg: vampires, werewolves, creatures, ghosts...)
-Draw a human OC as a monster
-Design a new monster
28: TRICK
-Play a trick on an OC
-Do you have an OC who would play tricks on people?
29: TREAT
-What is your OC's favourite halloween candy?
-Give an OC a special treat to make up for yesterday's trick
30: MAGIC
-Do any of your characters have magical powers?
-Give an OC a magical or cursed artifact
-Create a magic-using OC like a witch or wizard
27: COSTUME
-What is your OC dressing as for halloween?
PAST EVENTS: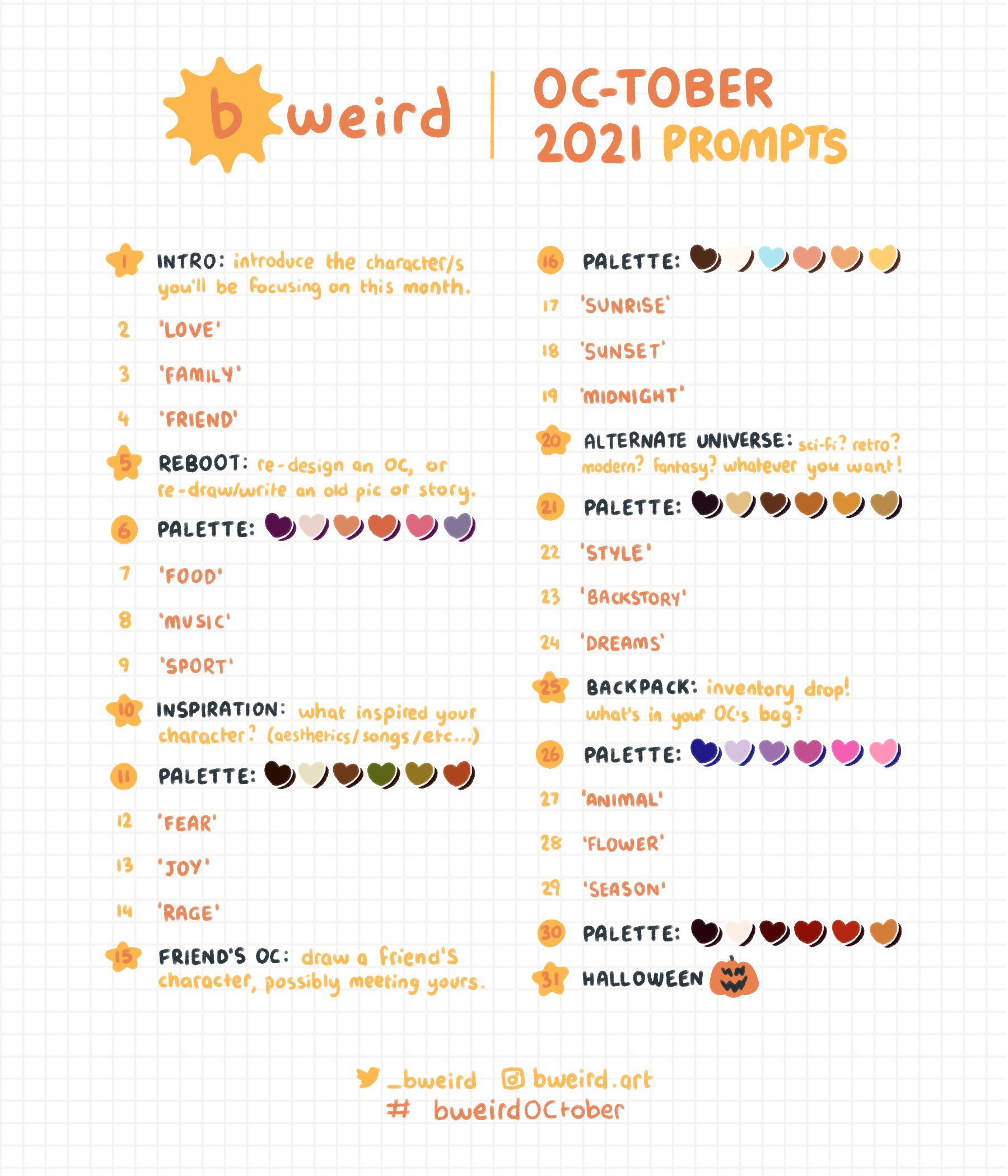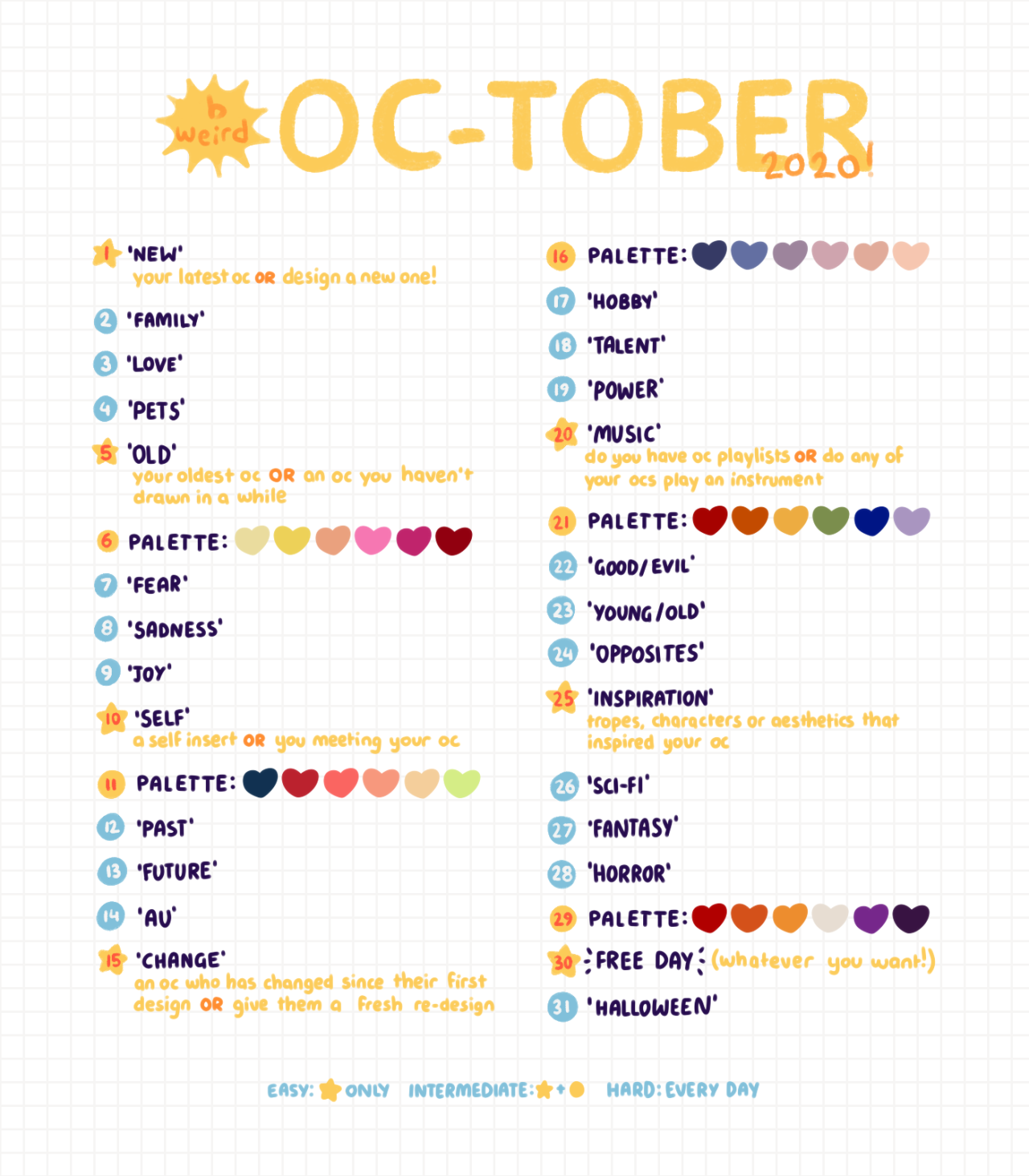 #bweirdOCtober on TWITTER! | #bweirdOCtober on TUMBLR! | #bweirdOCtober on INSTAGRAM!